Multifunctional Bone Drill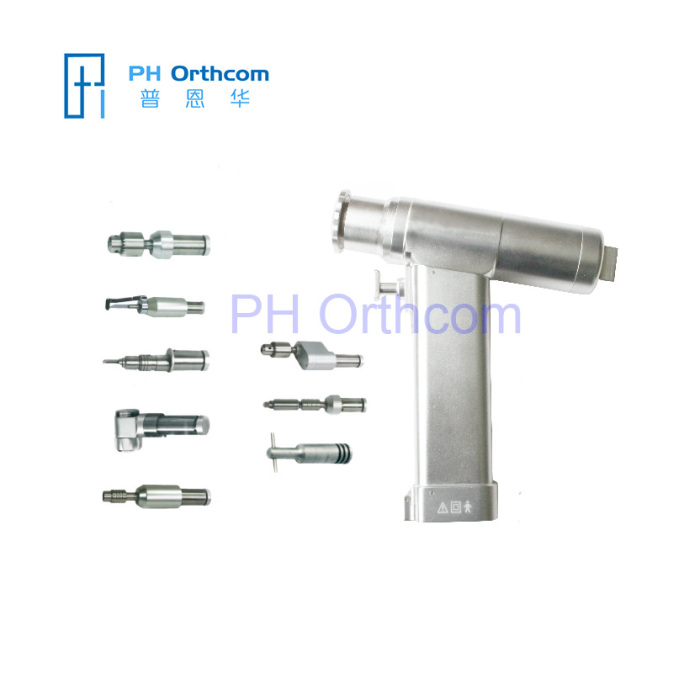 Standard Configuration
Multifunctional Handpiece, 1 pc
Automatic Cranial Drill Connector, 1 pc
Cranial drill and mill Connector, 1 pc
Sternum Saw Connector, 1 pc
Canulate Drill Connector, 1 pc
Quick Cross Connector, 1 pc
Sagittal Saw Connector, 1 pc
Acetabulum Reaming drill, 1 pc
Also 2pcs batteries, 1pc charger, 2pcs saw blades, 2pcs sternum saw blades,1 lid and 2 batteries kit
Technical data:
Input Voltage220V/50HZ
Frequency>15000rpm
Speed (drill) >600rpm
Speed(acetabulum burnishing drill) >130rpm
Torque (quickchuck) >7500G/C
Torque(reamer) >33000G/C
Torque (Hollow drill)>11200G/C
Noise≤78d
Features:
1. Handpiece is applicable with various quick connectors.
2. Connectors can be assembled and disassembled easily
3. 360° rotating
4. Main components are made of high-strength stainless steel
5. 135° centigrade autoclavable
6. NI-MH battery without memory environment
7. Autoclavable
8. Strang power, easily operating
For more information of Surgical Power Tools, please email us directly. We are looking forward to receiving your inquiry.